Articles
Intel corrige une faille de sécurite avec le firmware 11.8.50.3399
Details
Details

Category: Articles
Created on Monday, 06 November 2017 09:34
Last Updated on Tuesday, 14 November 2017 07:44
Published on Monday, 06 November 2017 09:45
Written by Fdrsoft
Hits: 652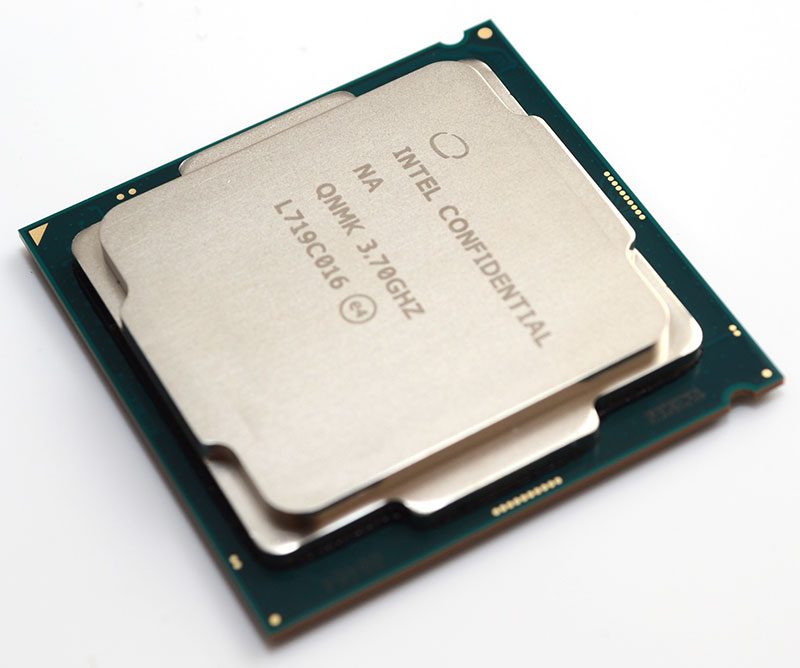 (Maj du 13/11/17) Après la mise à jour du Firmware Management Engine (ME) pour des problèmes de sécurité sur les chipsets Intel 1, 2, 3, 4, 5, 6, 7e générations (firmwares ME Serie 6, 7, 8, 9, 10 & 11) qui touchent exclusivement les PCs professionnels (Firmware 5Mo), Intel propose un nouveau firmware Version 11.8.50.3399 (Version 1.5 & 5Mo) qui concerne lui la totalité des chipsets 6e, 7e & 8e générations (ex: Z170, Z270 & Z370, H110, ...) que ce soit professionnel ou personnel sur les PC Desktops, Laptops, ....
Ce firmware corrige les failles de sécurités et les problèmes suivant:
Fix) Mitigated security vulnerability.
(Fix) Failure to confirm remote configuration is enabled when running Intel(R) Common Services FW compliance test CS_040
(Fix) Failure of Intel(R) ICC FW compliance test ICC_TST_02 at test step 4 with an error message 'HECI CMD Status = 0x00000034 (NO_SUCH_TARGET_ID)'.
(Fix) FWUpdate will fail in case image includes Pre-update module
(Fix) Playready DRM returns wrong value.
(Fix) Failed to Get Record via CCT tool with INVALID_PARAMS
(Fix) ICCWDT is not universal driver
(Fix) Remove win7 support.
(source Lenovo)
Je vous recommande donc de bien vérifier si votre bios possède le dernier firmware Intel ME ou d'attendre que votre constructeur de votre PC vous le propose.
Intel conseille après la mise jour du firmware, d'installer le dernier drivers Intel Managment Engine Version 11.7.0.1043 ici ou supérieur.
Vous pouvez vérifier si vous avez le denier firmware via le setup de votre PC (DEL, SUPPR, F2, F1, ...) ou en exécutant l'application Intel Detection and Mitigation Tool sous Windows comme ci-dessous.
Asus propose des a présent un pack pour la mise à jour des cartes mères Z270, Z170, H270, H110 ou intégré dans les derniers bios pour Z370.
Msi aussi propose la mise a jour du bios intégrant le firmware ME pour la Série Z370
Lenovo, Gigabyte, Asrock, et bien d'autres, publies déjà des nouveaux BIOS intégrants la mise à jour du firmware ME.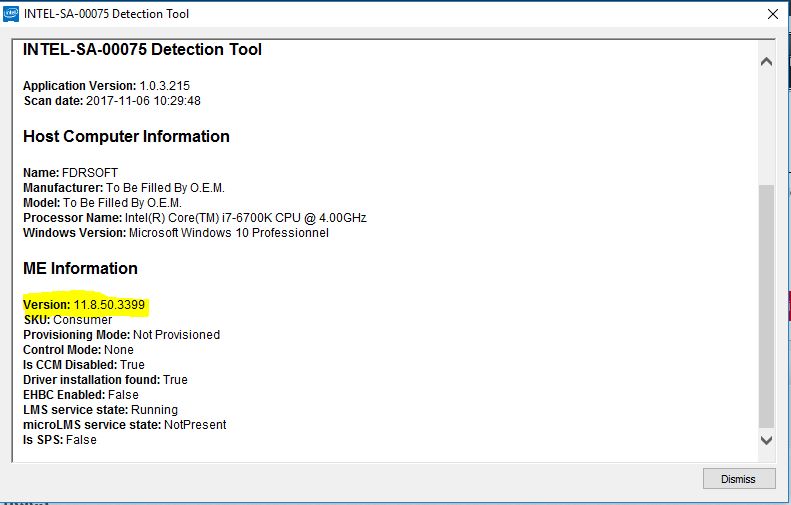 Les derniers BIOS et DRIVERS ICI